Surrey University supporting the GRT community in higher education 
A free event has been organised for the GRT & other minority groups to learn what is on offer at Surrey University on Saturday 7th May 2022. Entitled Explore University, it will include interactive activities for all year groups and their families/supporters with the aim of introducing new subjects and pathways, lunch & refreshments included, see flyer below…
University of Surrey – Explore University
---

---
Female actor wanted for Crystal's Vardo Tour in June 2022…
We are looking for a young female actor to play Crystal in our upcoming tour of Crystal's Vardo in June.
We encourage actresses from Gypsy, Roma and Traveller communities to get in touch.
This is a paid opportunity and a great experience for an aspiring actress.
We are looking for a young girl at least 16+ who can play Crystal (aged 12)
We shall be rehearsing in Brighton towards the end of May /early June with performances during in both June and July.  The tour will be in Wales, Somerset, Bedford, Brighton, Durham and Buckingham. We need someone with confidence, energy and the ability to learn lots of lines! This is paid work, fun, rewarding and a great opportunity for an young aspiring actor.
---
We have been funded for a second round of the Tutors for Gypsy, Roma, and Traveller young people programme
We now have some spots to fill so please send in your referrals!
Our application form is attached and the programme will begin in late September once students have settled back to school.
The programme involves 1 hour of additional support every week during school terms for young people from GRT communities aged 4-18.
One-to-one professional tutoring, no group classes, it is free and all resources provided including technology.
The programme is online and nationwide.
There is no set curriculum, the hour is dedicated to any aspect of education that the young people feels they'd like additional support with.
Our Education Officer is on hand to support the young person, their family, and tutor every step of the way.
120 students benefitted from the last round of the programme!
Here is what parents had to say:
"The teachers have commented that they have seen both children's confidence grow, and that they have seen improvement in their abilities. They are both enjoying school more as they are not so far behind"
Parent of child
"I'm really happy that this exists for Roma people, it is such a good help for my community'.
Parent of child
Please come back to me if you have any questions at all and feel free to share with your networks.
Hannah Culkin
Programme Manager – Open Doors Education and Training CIC
Office: 020 7607 2002
Mobile: 07842306068
Open Doors Education & Training CIC
The Traveller Movement
44-50 Jeffrey's Road
Stockwell
London
SW4 6QX
---
Press release
£1 million education programme for Gypsy, Roma and Traveller children announced
The programmes will focus on boosting educational attainment, tackling exclusion and drop-out rates and improving pathways to employment for Gypsy, Roma and Traveller children.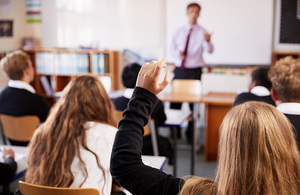 Education programmes to help support Gypsy, Roma and Traveller pupils have been launched by the Communities Minister, Lord Greenhalgh, today (22 July 2021).
The new programmes will focus on boosting educational attainment, tackling exclusion and drop-out rates and improving pathways to employment for Gypsy, Roma and Traveller children, backed by £1 million government funding.
The pilot programmes will reach 150 schools and involve a range of targeted work, including:
reducing drop-out rates by engaging families with pre-school children and those transitioning from primary to secondary school,
targeting young people not in education, employment or training,
fostering better cooperation between councils, schools and families and
tutoring for catch-up lessons to support pupils whose education has been disrupted by the pandemic.
Bradford, Central Bedfordshire, Essex, Hillingdon and Surrey have been chosen as the pilot areas, with the programmes informing future government work that make a real difference to the lives of people in the community.
Communities Minister Lord Greenhalgh said:
Access to education is absolutely key to improving the life chances of all children.

Our £1 million education programme will reach over 600 children and young people in areas across the country.

This work will help ensure no community is left behind in the government's drive to level up the nation.
Today's announcement includes funding for the Open Doors Education and Training organisation to continue catch-up tutoring for Gypsy, Roma and Traveller pupils, building on £400,000 invested last year to deliver catch-up support and expert guidance to help young people progress.
This funding complements the significant investment that Department for Education has made of over £3 billion for education recovery, including a significant expansion of its tutoring programme to support children and young people to make up for learning lost during the pandemic.
Further information
The pilot areas were chosen as those with the highest number of Gypsy, Roma and Traveller pupils attending primary and/or secondary school, according to data from the DfE 2020 National Pupil Database.
The Department for Education announcement in June included £1 billion for a national tutoring revolution, made up of:
£218 million of new funding directed through the government's flagship National Tutoring Programme. This is on top of the £215 million funding already planned to be invested in the 2021-22 academic year;
£579 million to fund schools to develop local tutoring provision using new or existing school staff; and
£222 million to fund an extension to the existing 16-19 Tuition Fund for two further years.
The Department for Education will continue to ensure that support reaches disadvantaged pupils and will work with their delivery partner, Randstad, to ensure that a minimum of 65% of Tuition Partner provision will be provided to pupils eligible for the pupil premium.
This new tutoring funding, combined with the funding for tutoring they have already announced, will allow the Department for Education to provide up to 100 million tutoring hours for children and young people across England by 2024. By phase, this funding enables provision of:
Up to 6 million tutoring courses of 15 hours of tutoring for 5-16 year olds by 2024.
The equivalent of 2 million 15-hour courses for 16-19 year olds by 2024
Office address and general enquiries
2 Marsham Street
London
SW1P 4DF
Contact form https://forms.communit…
General enquiries: please use this number if you are a member of the public 030 3444 0000
If your enquiry is related to COVID-19 please check our guidance page first before you contact us – https://www.gov.uk/guidance/coronavirus-covid-19-guidance-for-local-government.
If you still need to contact us please use the contact form above to get in touch, because of coronavirus (COVID-19). If you send it by post it will not receive a reply within normal timescale.
EDUCATION MATTERS
NEED EXPERT ADVICE ON EDUCATION LAW AND THE SCHOOL SYSTEM?
For travel expenses only (based in London), call Marc Lorenzi on: 02077385444 or email:

marc@cenlive.org
---
ASH MANOR SCHOOL, Ash, Surrey in the news for all the right reasons.
Held in high regard throughout the County, Ash Manor School has also been recognised by National Charity, Traveller Movement of Britain (TMB) for its excellent work supporting GRT communities in education, you can read more below, reproduced from the TMB newsletter:
VISIT TO ASH MANOR SCHOOL, SURREY
In October the education team visited Ash Manor School in Surrey to witness the wonderful work of the school with the local Gypsy and Traveller community. As a result of the inclusion of Gypsy and Traveller History month on the school curriculum, a zero tolerance approach to bullying and by creating an inclusive and respectful environment Traveller
and Gypsy pupils have high levels of educational attainment, including formal qualifications with many going on to complete further education. Unarguably, the school is a role model in terms of promoting tolerance, inclusion of Gypsies and Travellers and by engaging meaningfully with the local community
---
Race equality and minority achievement (REMA)
Introduction to REMA
Surrey's Race Equality and Minority Achievement (REMA) team is an experienced, high-quality team with combined expertise in Gypsy/Roma/Traveller (GRT) and English as Additional Language (EAL) work.
REMA Services are offered by specialist teachers, traveller education support workers and bilingual support workers.
What can REMA offer you?
improved outcomes for ethnic minority pupils in line with OFSTED expectations
advice and liaison with other agencies to ensure the requirements of equalities legislation are met with regard to children and young people from minority communities
identification, assessment and induction of vulnerable pupil packages to support pupil progress and remove barriers to achievement, including: direct teaching support, in-class support in the pupil's first language, examination support, consultation and a range of other services
joint planning with staff
a menu of training and network opportunities to develop school and staff capacity going forward insight into cultural background of GRT community with advice and support on providing the right environment for these pupils
engagement with parents by bridging the communication gap with EAL families and developing supportive relationships with parents in their first language
helping to build home-school links and relationships with GRT families
training and support for parents to engage positively with school
advice and support on the identification of the SEND needs of EAL and GRT pupils
support to maintain the attendance, engagement and learning behaviours of EAL and GRT pupils
a full and value-for-money menu of training and other forms of support.
Contact us
If you would like to discuss your requirements or arrange a consultation with one of our specialist staff please contact:
Susan Weston (REMA Lead Teacher, West Area)
email susan.weston@surreycc.gov.uk or call 01483 517831
Moira Lemprière (REMA Lead Teacher, East Area)
email moira.lempriere@surreycc.gov.uk or call 01483 519109
Mariana Wallington (Bilingual Support Coordinator)
email mariana.wallington@surreycc.gov.uk or call 01483 517675
---
Free advocacy and support for GRT families regarding schooling, see Traveller Movement of Britain flyer (above)
---
http://www.dorkingandleatherheadadvertiser.co.uk/Action-plan-implemented-improve-lives-Surrey-s/story-21322925-detail/story.html
Action plan implemented to improve lives of Surrey's Gypsy children
This is the headline from the Dorking & Leatherhead Advertiser and you can view the full story on line by clicking on the above link. Surrey County Council have concluded that there have been failings regarding GRT education in schools for a number of complex reasons. A report presented to Councillors in June suggests progress must be made in better fulfilling the needs of GRT children who tend to lag behind in schooling, though, timescales for improvements look distant…