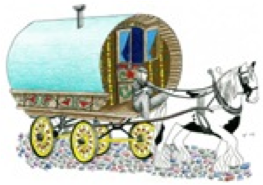 The Duffy family are the 2022 winners of the SGTCF Photo Achievement Award
Want to be inspired? Take a look at this video, absolutely amazing…
In fond memory of RYALLA DUFFY R.I.P.
---
EXCITING NEWS just in…SGTCF are shortlisted for the National Diversity Awards 2022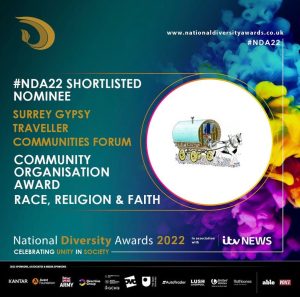 The National Diversity Awards 2022 have shortlisted Surrey Gypsy Traveller Communities Forum in the Communities Organisation for Race, Faith, Religion…you can find out more by clicking on the link below. The winners will be announced at Liverpool's Anglican Cathedral on Friday 16th September 2022.
Shortlist (nationaldiversityawards.co.uk)
---
Click for short video
---
SURREY COMMUNITY ACTION GRT SERVICES (Click link below)
Gypsy, Traveller & Roma advice
Plus a drop-in service 10am-midday the first Thursday of every month
SCA, Astolat, Coniers Way, New Inn Lane, Burpham, Guildford GU4 7HL
---
Media That Moves Report on the representation of Gypsies and Travellers in the UK media
Just released (February 2022), this is a well researched and presented report from Leeds Gate & London Gypsies & Travellers about how the GRT community are often portrayed by media outlets, it is well worth a read… 
Media+That+Moves+-+Full+Report
---
Do you know someone who is in debt, has lost their job, has problems because of Covid, is a carer, needs help with money? There may be a grant to help, email:
enquiries@sgtcf.uk

for more information…
---
Click on link above for further details, great prizes to be won…
---
Mental health online GRT dramatisation
                                A unique opportunity to explore mental health issues and possible solutions in a short drama by award winning Romany filmmaker Dee.C.G.                                  Commissioned by 'Time to Change Surrey' and backed by Surrey County Council, online attendance is free via megan@endstigmasurrey.org.uk
UPDATE:
Following the highly successful launch on Zoom of this play (3rd December 2021), further dates are planned for January 2022
---
Winter Wonderland in London 2021 – see flyer for pre-booking details
WINTER WONDERLAND 2021 PRESS RELEASE_27Jul
---

Looking for a GRT pitch/plot in Runnymede?, then read the flyer below, act quickly!
---

Travellers Times magazine secures a MILLION p
o
unds of funding from the National Lottery
Travellers' Times set to go independent and GRT led after "amazing" Lottery funding award | Travellers Times
---

The Covid19 VACCINE is here and SAFE
IMPORTANT
If you don't know your NHS number, you now CAN access the Covid Vaccine (below NHS letter)
Health And Race e-bulletin 16 July 2021 (mailchi.mp)
 Make sure you have the FACTS
   Surrey County Council have issued a Coronavirus leaflet
Covid 5 things flyer_v5 FINAL FINAL
---
HOLOCAUST MEMORIAL DAY – Award Winning Film (99mins)
"A People Uncounted" the untold story of 'Perajmos' the Roma Holocaust will be shown at a variety of venues in Surrey with free entry (18+ only). Subtitles will be read out LOUD.
'A People Uncounted ' – The untold story of the Roma Holocaust
The award winning film 'A People Uncounted' will be shown on and around Holocaust Memorial Day (not available January 2021 due to Covid19) in recognition of what was suffered by one of Surrey's largest ethnic minorities, and its legacy today.
This full-length (99 mins) feature film has been nominated for/won five awards internationally since it was made in 2012. Its UK premiere was held at the headquarters of Amnesty International in 2015. Members of Surrey Gypsy Traveller Communities Forum attended this, and the Forum has since bought the right to show the film to public audiences free of charge in the UK.
Here is the official trailer     https://www.youtube.com/watch?v=e7slCGDaSWY
'A People Uncounted' tells the story of the Roma, commonly referred to as Gypsies – people who have been both romanticised and vilified in popular culture. The Roma have endured centuries of intolerance and persecution in Europe, most notably the Holocaust genocide where an estimated 500,000 were murdered. This film documents their culturally rich yet often difficult lives, and demonstrates how their present state has been deeply shaped by the tragedies of the past.
Filmed in 11 countries and featuring dozens of Roma – including Holocaust survivors, historians, activists and musicians – 'A People Uncounted' brings the Romany history to life through the rich interplay of their poetry, music, and compelling first-hand accounts. As ethnic intolerance flares up in Europe, this film sheds light on this unique culture while presenting the Roma tale as emblematic of the world's legacy of racism and genocide.
Closer to home, this film presents a powerful and thought-provoking challenge to what the Commission for Racial Equality has described as 'The last acceptable form of racism' in our own country. This is particularly significant in Surrey, which has one of the largest Romany Gypsy and Traveller populations in the UK.
Here is a link to the five minute film made with and for Gypsies and Travellers in Surrey to explain about 'Brighter Futures': our strategy to deliver equality of life chances for the children of their communities    https://www.youtube.com/watch?v=PH6tmuix7Z4
---
For more about the Traveller Movement, just click on the link below
The Traveller Movement – About
---
Brighter Futures for GRT children and young people
short film on YouTube
Click on link or put "Brighter Futures Gypsy" in YouTube search to find out more from youngsters living in Surrey.